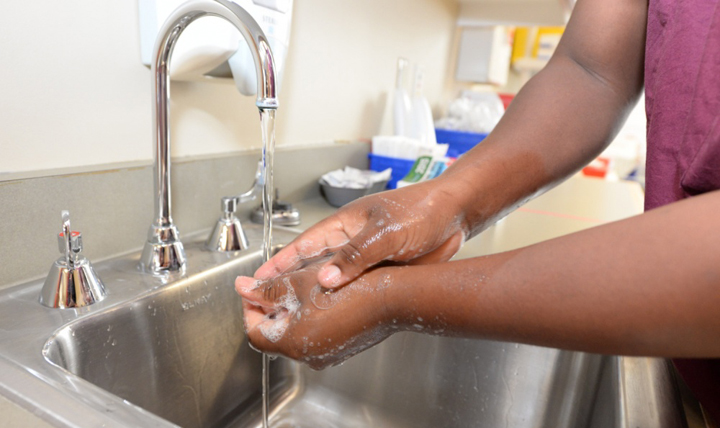 Requested actions
Suspect monkeypox virus (MPV) infection in any patient who presents with 1 or more lesions that suggest MPV, regardless of the patient's age, social history, gender or sexual identity.
Several commercial labs, as well as Washington State Public Health Labs (PHL), now test for MPV.
PHL updated its MPV specimen collection guidance:

Preferred specimens are swabs of lesions submitted in viral transport medium (VTM).
You can also submit swabs in a dry sterile screw-top container (with no medium).
If you have no alternative, PHL will accept specimens in universal transport medium (UTM).
Freeze specimens you send to PHL. Refrigeration is only acceptable when it is certain PHL will receive the specimen within 24 hours of its collection.
JYNNEOS vaccine for MPV
JYNNEOS vaccine was originally developed for use against smallpox. It is also effective against MPV.

It is delivered in a 2-dose series, 28 days apart.
Administration can be subcutaneous or intradermal.
It is approved for people 18 years or older.

The Health Department's allocation of JYNNEOS vaccine is limited and varies in timing and amount. We use self-reported criteria to prioritize who gets vaccine. Please note these criteria will expand quickly when allocation increases.
People 18 years or older are eligible to get MPV vaccine if they are a gay, bisexual or other man or transgender person who has sex with men AND at least 1 of the following applies:

Had multiple sex partners in the past 3 months.
Had gonorrhea or early syphilis in the past year.
Used methamphetamine in the past month.
Attended a bathhouse or public sex venue or had group sex (with 3 or more people) in the past 3 months.
Homeless or in unstable housing AND staying in a congregate setting AND had sex in the past 3 months.
Exchanged sex for money, drugs or other purposes in the last 3 months.
Identify as Black, Hispanic, Latinx, Native Hawaiian, Pacific Islander, Asian, Indigenous, American Indian or Alaska Native.

We will also vaccinate people who had a high-risk exposure to a patient diagnosed with MPV.
Providers have reported breakthrough cases in vaccinated people. Please tell your patients this.
Utilization determines our allocation amount. It is imperative we quickly use our entire supply of vaccine.
Refer eligible people to our monkeypox vaccine page (tpchd.org/monkeypoxvax) to sign up for a vaccine appointment.
Tecovirimat treatment for MPV
Pierce County received an allocation of 50 courses of tecovirimat (TPOXX), an oral medication for use in the current MPV outbreak.
Because supplies are limited, it should be used for people with the following high-risk criteria:

Severe disease (e.g., hemorrhagic complications, sepsis, encephalitis, hospitalization).
Immunocompromise.
Children younger than 8 years.
Pregnant or breast-feeding.
Atopic dermatitis or other exfoliative skin conditions.
Involvement of areas that might constitute a special hazard (e.g., eyes, mouth, genitals, anus).

Tecovirimat is dispensed as a 14-day course, taken twice daily.
Food and Drug Administration (FDA) currently has not approved any treatment for MPV. Tecovirimat is only approved for smallpox. Studies in animals show it is effective in treating orthopoxvirus-induced disease. A case report from the United Kingdom suggests tecovirimat might shorten duration of illness and viral shedding. Human clinical trials indicate it is safe and tolerable with only minor side effects. Randomized controlled trials in humans are underway to further assess safety and efficacy.
Tecovirimat is available as part of an expanded access investigational new drug (IND) protocol. Access to tecovirimat requires signed consent prior to dispensing and will require submitting an IND form to FDA. You can access these forms on Centers for Disease Control and Prevention's (CDC's) tecovirimat tecovirimat page.
The Health Department has a few courses of tecovirimat stored for community providers. If you would like to access a course for a qualifying person, call us at Call (360) 678-7888, Monday–Friday, 8 a.m. - 4:30 p.m.
COVID-19
CDC made important changes to its COVID-19 policy. CDC no longer recommends:

Quarantine for close contacts of COVID-19 cases.
Routine asymptomatic testing of people without known exposure.
Testing to return to normal activities after a 5-day isolation period following a positive test (for people with uncomplicated disease and normal immune function).

CDC continues to recommend:

Wearing a mask until day 10 following a known close contact exposure.
Wearing a mask for at least 5 more days upon return from isolation.
Staying aware of community levels of COVID-19 to inform personal risk and decision-making.

Washington State Department of Health (DOH) is reviewing these new guidelines and will release an update soon. State isolation and quarantine guidance is currently based on older CDC guidance.
FDA expanded access to Novavax vaccine for COVID-19 to people 12–17 years old. Novavax is currently authorized as a primary 2-dose series. It is not currently available for booster doses.
Washington State COVID-19 Vaccine Program received a small number of Pfizer and Moderna bivalent booster doses. They are now available to order in Washington State Immunization Information System (WAIIS). Because the allocation is small, some orders will be decreased or not approved.

This week, ordering is open Aug. 24 through 3:00 p.m. on Aug. 26. The program will review orders and update statuses in WAIIS on Aug. 29. Ordering will be closed until additional allocation is received. This will occur after emergency use authorization (EUA) approval, anticipated the first week of September.
Once allocations become regular, the program will review orders on Mondays and Thursdays. You will see updated order status in WAIIS by close of business on those days. The program anticipates receiving additional doses for routine vaccine ordering in early September and will continue to receive more doses regularly.
Additional information
Contacting the Health Department
Call Island County Public Health
Main line: (360) 678-7888, Monday–Friday, 8 a.m.–4:30 p.m.
After Hours Communicable Disease Report Line: (360) 914-0837 or Washington State Department of Health: (206) 418-5500
(360) 678-2301  COVID-19 line, Monday–Friday, 8 a.m.–4:30 p.m.